Private lakeside retreat
Imagine walking through a forest to reach an old log cabin. A large blue lake opens up in front of you. No neighbors heard or seen. Would you like to stay here?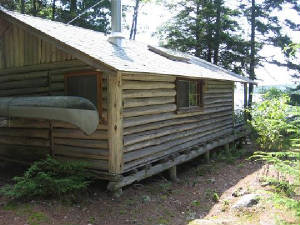 At Spruce Mountain Lake the peace, quiet, and nature surrounds you with a memorable Maine experience. Enjoy your time with nature and escape the busy world. Contact me at christiangilbe@hotmail.com to make arrangements. Rates in 2018 are $100/night or $500/week. Don't wait to make reservations. Check out the availability calendar for the cabin (at my other website).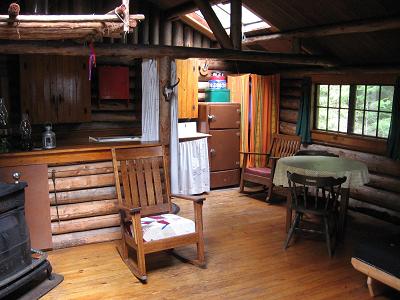 Cabin Description
This is a classic Maine cedar log cabin. One large room contains one queen sized futon, dining table, two comfortable rocking chairs, a space for hanging clothes, and a kitchen area. There is plenty of room for additional people to sleep inside the cabin or tent next to the lake. Clean sheets, bedding, and pillows are provided. The cabin has two large skylights to provide light during the day, in addition to the windows on all four sides. The cabin is 17 feet wide and 22 feet long. The porch is 6 feet by 17 feet, which is a great place to sit in the rocking chairs and enjoy the peaceful view of the water.
Location
The cabin is located in the smallest town in Maine, Beddington. This town has a population of 50 people. Beddington is one hour east of Bangor or approximately 6 hours north of Boston. Spruce Mountain Lake is a 450 acre lake. There is no great place to publicly access the water to launch a boat. This fact makes the lake very quiet and enjoyable. The cabin sits on a peninsula along the north side of the lake, and the cabin looks south down the full length of the lake. To reach the cabin, you will walk 1/3 of a mile from the parking area.

Amenities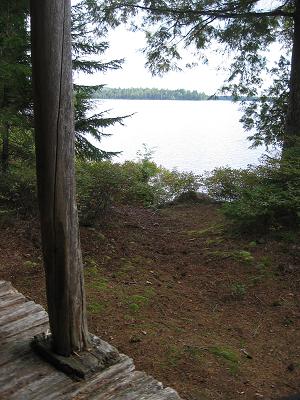 This is a primitive and secluded cabin. Although this cabin does not have running water, the owner carries in 5 gallons of drinking water for guests. A spring a few miles away is available for additional drinking water, but I have not had this water tested. The Airline Snack Bar, which is roughly 8 miles away, provides showers for a fee. Alternatively, the cabin offers refreshing swims in the lake as an alternative to freshen up. A clean outhouse is available. A full range of cooking and eating utensils are provided, including pots, pans, glasses, plates, coffee cups, bowls. Please bring your own beverages and food. You can cook on the gas stove. A canoe is available for paddling the clear water lake. The Airline Snack Bar is just 8 miles away from camp, if you want to go out for breakfast, or if you need any simple supplies. CH Mathews in Cherryfiled (30 minutes away) carries the best and nearest selection of vegetables and meat.
If you are interested, we can provide you with some Indian food when you arrive at the cabin. My wife and I run a food business, and we sell Indian food at numerous coastal farmers markets.

Fishing
-pickerel
-yellow perch
-salmon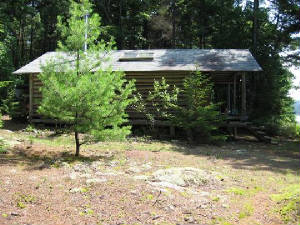 Wildlife

While staying at the camp, you'll have an excellent chance to see and hear loons, deer, moose, eagles, partridge, racoons, owls, and many other Maine critters. I can almost guarantee that you will hear and see loons if you stay at the cabin in the summer. Often, the loons call to each other during the evening hours, and their calls sounds like a lonely coyote howl. Loons spend most of the year on Maine's lakes and ponds, and migrate to the coast during the winter months.
Once, my friends and I watched a moose swimming across the water while I was staying at the cabin. And, in 2013, we saw 5 moose on the cabin road, including a momma and 2 babies in the parking area. I have also seen deer and hawks on the drive to the cabin.
People often ask me if they will see bears while staying at the cabin. There are bears in the area, but you would be extremely lucky to see one. I have seen four bears since 2001. And each of these bears were over 40 miles away from the cabin.
Accessing the Camp
This rustic, lakeside camp is accessible by dirt road from route 9. I personally maintain a majority of this dirt road. Guests should not drive a sports car on this road. I drive my car on this road, but guests will need to drive slowly in places. The road does get washed out during heavy rains. After 4 miles of dirt roads, you need to park your vehicle and hike for 10 minutes along a beautiful walking trail to the camp. A backpack for carrying your gear is highly encouraged, as are comfortable shoes. The trails winds through a mature spruce, cedar, and pine forest as it approaches the peninsula on the lake.
Note - the dirt road is closed to vehicles from April 1 - May 15. Pedestrians and mountain bikers may use the road, however.
Hiking Trips

Lead Mountain
Spruce Mountain
Black Mountain
Schoodic Mountain
Catherine Mountain
Tunk Mountain
Shilallah Bog

Katahdin
Canoe Trips
Narraguagus River
Machias River
Union River
St. Croix River
St. John River
Allagash River
Video taken at the cabin

http://www.youtube.com/watch?v=tCmKnhpOPU0&feature=youtu.be




Please note: this cabin is not a condo or a time share.
Christian Gilbert

119 Eastbrook Road
Franklin ME USA 04634